Apollo's Cabinet
sponsored by The Tunnell Trust
Friday 17 March 2023
7.30pm at St John's Church, Lovers Walk, Dumfries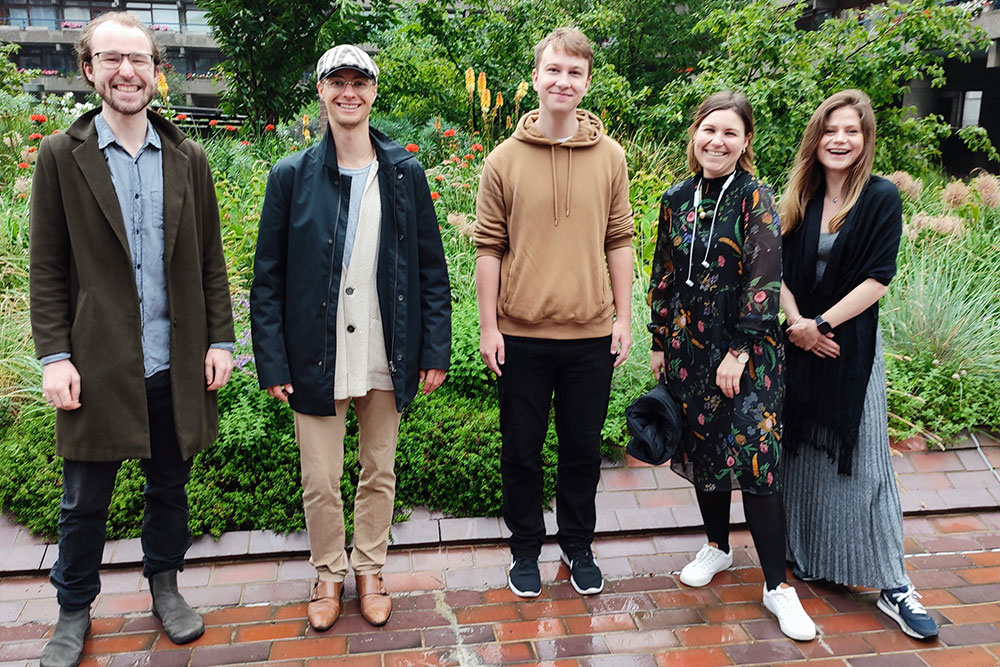 Apollo's Cabinet
Apollo's Cabinet are an early music ensemble founded at the Guildhall School of Music and Drama in 2018. Since then they have grown in size and perform with a flexible lineup to offer versatility and variety in programming.
Their focus is to create storyline-based programmes, interweaving multiple art forms to rethink historical performance practice in a way fit for a modern audience, often including spoken word, reading, singing, poetry, historical dance, acting and videography.
Their programme "Home & Away", based on poetry by British poet Brian Nisbet has won them the "Brian Nisbet Early Music Prize" and they have been recent "Tunnell Trust" awardees for 2022/2023.
"Apollo's Cabinet are adding storylines and scenarios to illuminate already dramatic music, while erasing the interactive gap between stage and audience". Bognor Regis Observer.
In May 2022 they were joint winners of the Göttingen Händel competition with their programme "A star is born – the making of Kitty Clive". They semi-staged a performance leading through the actress and singer's life, creating a Baroque musical theatre experience, hailed by Göttinger Tagblatt as an "unconventional and convincing" concept where "Baroque meets Bridgerton".
The group were one of the selected ensembles for the Brighton Early Music Festival Live! Scheme in 2019 and were invited for a concert at the main festival and the Lake District Festival in 2020, as well as giving lunchtime and evening recitals in churches across London. During Summer 2019 they were the first ensemble ever selected for the Gstaad Menuhin Festival Baroque Academy.
The ensemble is dedicated to educational outreach for children as well as adults, and members have offered workshops and educational concerts in collaboration with the Centre for Young Musicians (CYM), the Brighton Early Music Festival (BREMF), the English National Opera (ENO) and Wigmore Hall Chamber Tots in Taunton, Peterborough, Brighton and London as well as several schools and music centres in the South of England.
For the upcoming season, Apollo's Cabinet have been invited to perform at AlpenArte and Schattenburg Konzerte in Austria with their programme "Charles Burney – Baroque Travel blogger" as well as Felix! Festival Cologne as part of their prize at the Göttingen Handel competition. They are currently producing a new interactive musical theatre show about the cold case of Jean-Marie Leclair's murder, which will be generously supported by Continuo Foundation and Angel Early music.
2023 will see them tour Scotland, kindly supported by Tunnell Trust.
www.apolloscabinet.com