Baba Yaga
saxophone and harp
Friday 7 October 2022
7.30pm at St John's Church, Dumfries.

Karen Dufour, saxophone and Gwen Sinclair, harp.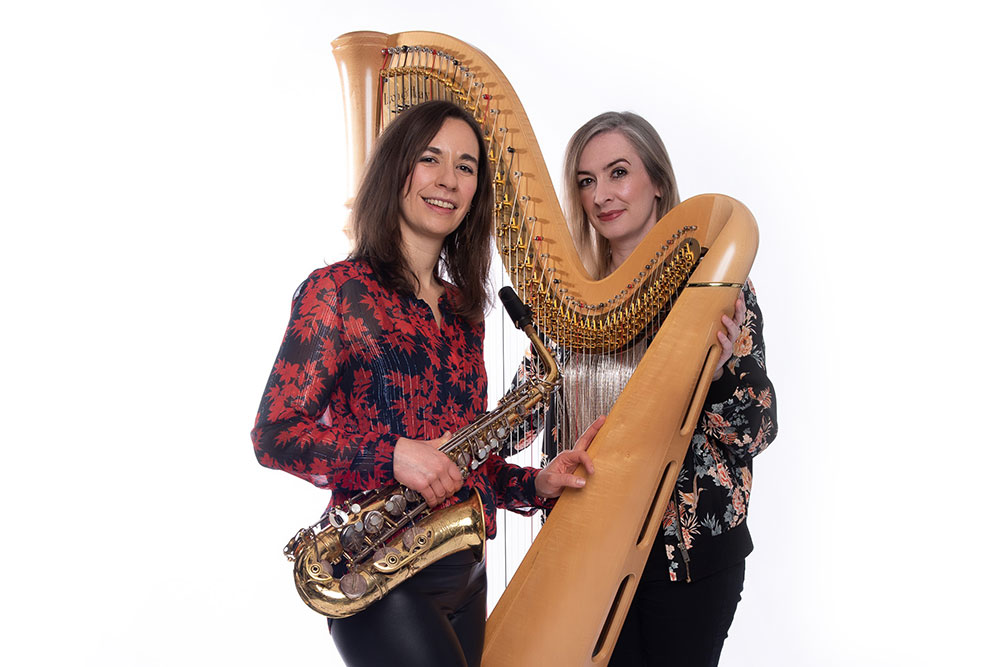 Baba Yaga
Baba Yaga are the unusual combination of saxophone and the harp. Karen and Gwen met whilst studying at the Royal Conservatoire of Scotland and have forged this musical partnership out of a passion for promoting their instruments. Taking advantage of the varied sound colours of harp and saxophone, they explore transcriptions, original compositions and most recently have toured their own arrangement of Mussorgsky's Pictures at an Exhibition.
Gwen has performed with the Orchestra of the Scottish Opera, Royal Scottish National Orchestra and Scottish Chamber Orchestra. As a passionate player of traditional music, as well as classical, Gwen has performed at the Edinburgh International Harp Festival, Festival Interceltique de Lorient, Hay Festival, the National Eisteddfod of Wales and the BBC Radio 2 Folk Awards. 2019 saw the launch of her first solo album, Mentro, which was long-listed for the Scots Trad Album of the Year award and in 2021 Gwen released an album of Christmas music from the Basque Country: Douze Noëls. Her playing can also be heard on the albums of Gwilym Bowen Rhys (O Groth y Ddaear, 2016. Arenig, 2019) and 10 Mewn Bws (2013). Gwen is a tutor for the Welsh Youth Folk Ensemble, Avanc, and has published three books of music for clàrsach through Alaw Publishing. Some of her arrangements are included in the graded exam syllabuses for Trinity College and the Royal Conservatoire of Scotland and for Royal National Mòd competitions.
During her studies, Karen won the Royal Scottish National Orchestra's Apprenticeship Scheme and the Mary D Adams Prize for Chamber Music. Karen continued her studies with soprano saxophonist Christine Rall (Rascher Saxophone Quartet) with the aid of a Creative Scotland Personal Development Award. A varied career of chamber and orchestral music, Karen has performed with the Orchestra of Scottish Opera, the Royal Scottish National Orchestra and the BBC Scottish Symphony Orchestra. Karen is soprano saxophonist in the award winning saxophone quartet Sax Ecosse and has performed in Europe and the UK including The Edinburgh International Festival, returning artists at The Emerging Artist Series-The Usher Hall, Celtic Connections, the World Saxophone Congress, Norway's St Olav's Festival, Maltings Theatre and live on BBC Radio Scotland's Classics Unwrapped.
PROGRAMME
Gustav Bumcke – Notturno Op. 45 for alto saxophone and harp

Eddie McGuire -Purple Bamboo Melody arr. for soprano saxophone and harp 

Yusef Lateef – Romance for soprano saxophone and harp 

Matthew Whiteside – New commission for Baba Yaga

 Natalie Moller – Starshine & Moonfall for alto saxophone and harp

Modest Mussorgsky (1839-1881) – Pictures at an Exhibition arr. Karen Dufour and Gwen Yorke