Friday 2 December
7.30pm at St John's Church, Lovers Walk, Dumfries
Emily Andrews, flute/mezzo-soprano; David Massey and Francisco Correa, guitars.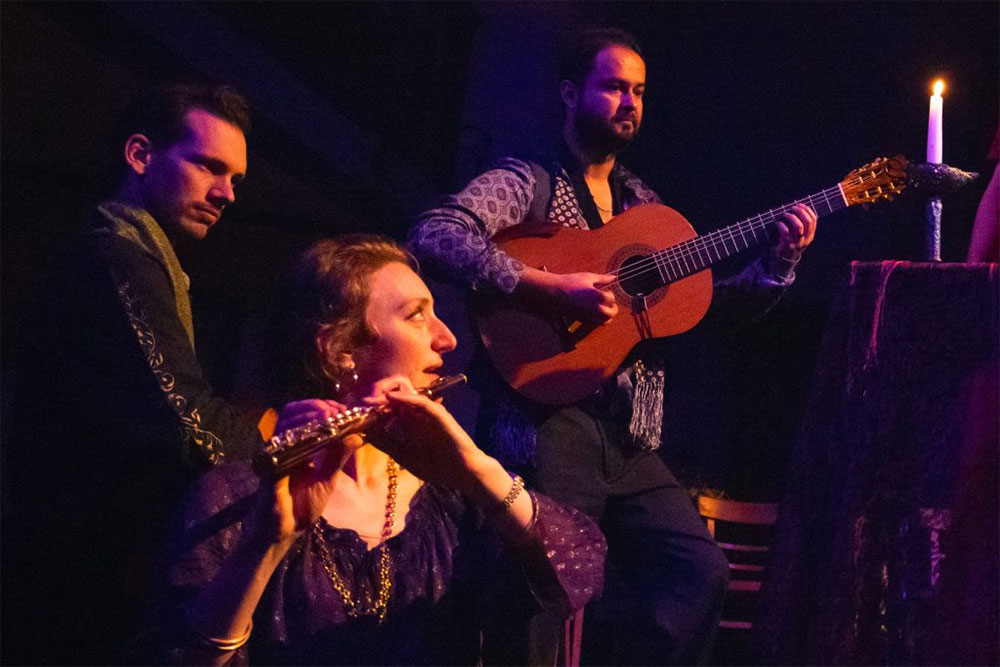 CarmenCo
CarmenCo is an ensemble comprising Emily Andrews, flautist/mezzo-soprano; David Massey & Francisco Correa, guitars.
Formed in 2017, prizewinning trio CarmenCo have performed all over England, Scotland and Wales, honing their distinctive approach and performing their own arrangements of orchestral pieces, opera, folk & world music. They often perform from memory and incorporate movement, dance and storyline into their concerts, as well as varying instrumentation from solo guitar through to voice/flute and two guitars, making their concerts and shows as unique and colourful as the players in the trio.
In 2019, they won a generous grant from Arts Council England to develop a show called Creating Carmen: they commissioned writer Clare Norburn to write a concert-play based about Prosper Merimee, the author who wrote the novella Carmen on which Bizet's opera was later based. They added two actors, lighting, set and costumes, and toured this show to sell-out audiences in 2021including Buxton Festival and three Scottish venues: Peebles, Linlithgow and Stranraer.
Never ones to stand still, CarmenCo continue to expand their repertoire, and their latest concert additions include an ambitious arrangement of Elgar's song cycle "Sea Pictures" (the two guitars take on the entire orchestra's parts and it sounds fantastic), and Mozart's virtuosic and playful flute quartet in D-major (the two guitars share the violin, viola and cello parts with dexterity).
CarmenCo grew out of the Andrews Massey flute and guitar duo (Emily and David) when they added extra guitarist Francisco (himself an internationally-acclaimed soloist and chamber musician), enabling richer textures to accompany singing, and adding richer variety of instrumentation. The Andrews Massey Duo was formed in 2009, and won the Tunnell Trust Award 2012-2013. They were Royal Overseas League Competition semi-finalists three times & have appeared at Wigmore Hall, St Martin in the Fields, Kings Place and in Germany, Italy & Sweden. They have made three CDs.
For more information please see their website www.carmenco.co.uk or follow CarmenCo Trio on social media.
PROGRAMME
Ian Clarke – Hypnosis (arr. CarmenCo)
Mozart – Flute quartet in D major K.285 (arr. CarmenCo)
de Falla – Danza Española no. 1 from La Vida Breve (arr. E. Pujol)
Bizet – "Aragonaise", "Toreador" and "Habanera" from Carmen (arr. CarmenCo)
Turina – "Orgía" from Danzas Fantásticas (arr. G. Nestor)
Elgar – "Sea Slumber Song", "In Haven" and "Where the
Corals Lie" from Sea Pictures (arr. CarmenCo)
Traditional Selection of Carols from "Make Merry" (arr. Andrew Massey)