Emma Abbate and the Sacconi String Quartet
Friday 29 September 2023 – 7.30pm
The Bridge, Glasgow Road, Dumfries, DG2 9AW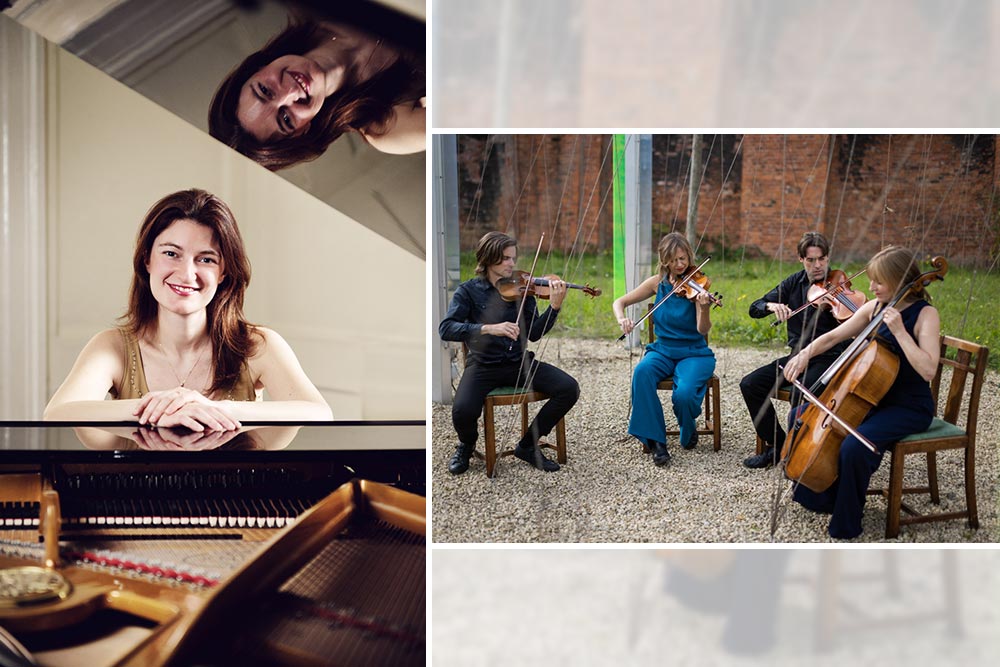 Emma Abbate
The Neapolitan pianist Emma Abbate enjoys a demanding career as a piano accompanist and chamber musician. Described as "an amazingly talented pianist" by the leading Italian magazine Musica, she has performed in duo recitals for international festivals and concert societies in Austria, Portugal, Italy, Poland and USA, and at many prestigious UK venues such as the Wigmore Hall, Southbank Centre, Royal Opera House, St John's Smith Square, St George's, Bristol and at the Aldeburgh Festival, in addition to broadcasts on BBC Radio 3.
Emma's varied discography includes a series of acclaimed recordings devoted to Italian vocal chamber music, the latest of which are with the mezzo-soprano Hanna Hipp (Sera d'inverno: Songs by Ildebrando Pizzetti) and baritone Ashley Riches (Mario Castelnuovo-Tedesco: Shakespeare Sonnets). A keen advocate of contemporary music, Emma has released two discs devoted to works by Stephen Dodgson that include his piano quintets with the Tippett Quartet. Other world-première recordings include works for cello and piano by Algernon Ashton and Krzysztof Meyer with Evva Mizerska. Emma also cultivates an active interest in historical keyboards, and has performed and recorded on a range of original instruments for the Finchcocks Charity and at Hatchlands Park and the Russell Collection. Together with Julian Perkins, she has recorded the complete keyboard duets by Mozart and Weber on original Viennese fortepianos. Julian and Emma's latest duet release, entitled Tournament for Twenty Fingers, features piano duets by British composers from the twentieth century: the disc has received 5 star reviews on BBC Music Magazine and has been chosen by Scala Radio as Album of the Weekend.
Based in London, Emma is a professor at the Guildhall School of Music & Drama and a staff coach at the Royal Opera House, Covent Garden. Following her graduation from the S. Pietro a Majella Conservatoire in Naples and an Advanced Diploma from the S. Cecilia Conservatoire in Rome, Emma studied in London with Yonty Solomon. She has been elected an Associate of the Royal Academy of Music in recognition of her 'significant contribution' thus far to the music profession. www.emmaabbate.com
The Sacconi String Quartet
Ben Hancox violin Hannah Dawson violin Robin Ashwell viola Cara Berridge cello
For twenty-one years, the Sacconi Quartet have been captivating audiences with their unanimous and compelling ensemble, consistently communicating with a fresh and imaginative approach. Formed in 2001, the four founder members continue to demonstrate a shared passion for string quartet repertoire, infectiously reaching out to audiences with their energy and enthusiasm. The Sacconi enjoy a busy international career, and are Quartet in Association at the Royal College of Music and Quartet in Residence in Folkestone.
The Sacconi's prolific recording career covers a broad swathe of repertoire from Haydn to present day. Their latest album features world premiere recordings of works by Roxanna Panufnik; other releases of recent years include premiere recordings of works by Jonathan Dove, Graham Fitkin and John McCabe. In Damascus, their CD of music by Jonathan Dove, hit the Classical Top Ten, and was chosen as one of Gramophone Magazine's Recordings of the Year.
For their twentieth birthday, the Quartet commissioned their latest piece from Jonathan Dove, On the Streets and In the Sky, shortly to be released on Signum Records. Their film of Dove's first quartet Out of Time was released on Amazon in 2021. They also continue to tour with Beethoven in the Dark, their immersive performance of Beethoven's op.131 quartet entirely from memory, in almost complete darkness.
The Sacconi Quartet is Quartet in Residence for the town of Folkestone and its surrounding areas, enabling creative collaborations with local artists and projects, and an embedded outreach programme. Recent performances of Beethoven on the Beach and Glass on the Warren seafront have attracted large audiences, many of them experiencing the energy of chamber music for the very first time. Their Sacconi Chamber Music Festival in Folkestone is firmly established among the UK's major chamber music festivals and attracts audiences from far and near for its vibrant atmosphere and dynamic programming.
The Quartet is indebted to the Royal Society of Musicians and Ellen Solomon for the use of their instruments. 
PROGRAMME
Caroline Shaw- Entr'acte for string quartet
Shostakovich Piano Quintet in G minor Op. 57
Dvorak: Piano Quintet No. 2, Op. 81 in A major