MARSYAS TRIO
flute, cello, piano
Sunday 24 March 2024 – 3.00pm
The Bridge, Glasgow Road, Dumfries, DG2 9AW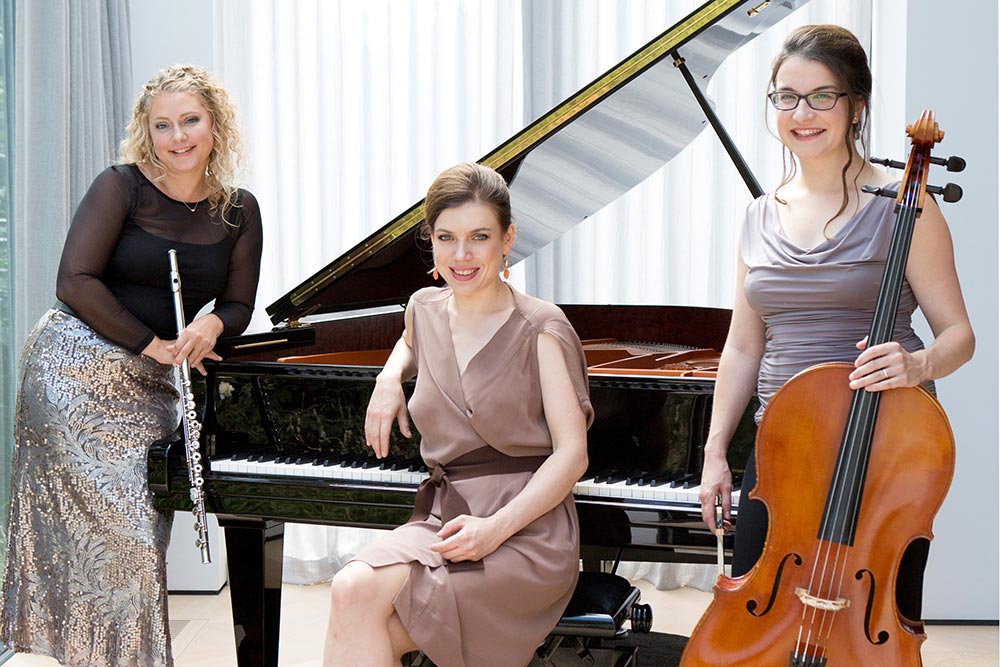 The Marsyas Trio
flute, cello, piano
Helen Vidovich – Flute | Val Welbanks – Cello | Olga Stezhko – Piano
The London-based Marsyas Trio, formed in 2009 by graduates of the Royal Academy of Music, is the UK's only permanent flute, cello and piano ensemble. Showcasing a hugely diverse repertoire from the Classical and Romantic eras to the present day, the Marsyas Trio's programming illuminates forgotten masterpieces, whilst inspiring a generation of new works through commissioning initiatives and recording projects.
The Trio's concert highlights include performances at Conway Hall and Kettle's Yard, tours in Europe, China, the USA & Canada, in the West Country for Concerts in the West, and in rural Wales as part of Arts Council Wales' Night Out scheme, which aims to bring outstanding chamber music to regional audiences.
UK festival highlights include the Cambridge Festival of Ideas, St David's Cathedral Festival, Vale of Glamorgan, Three Choirs Festivals and Spitalfields Music in the City. The Marsyas Trio's live performances have been broadcast on Swiss Radio RTS Espace2, Classic FM Bulgaria and BBC Radio 3.
The Marsyas Trio's latest CD In the Theatre of Air (NMC Recordings 2018), debuted at No. 7 on the classical charts and was one of NMC's highest selling CDs in 2018/19. The disc was warmly reviewed in Gramophone, BBC Music Magazine (4-stars), Tempo and featured in the Sunday Times The Week's Essential New Releases, with broadcasts including BBC Radio 3 and RTÉ Lyric FM. Their upcoming album of Finnissy's chamber music will be released on Métier/Divine Art Recordings in Spring 2023.
The ensemble has worked with Britain's leading composers, both established and emerging, including Michael Finnissy, Judith Weir and Laura Bowler. The Marsyas Trio has received generous and repeated support for from the RVW Trust, PRS Foundation, Hinrichsen Foundation, Ambache Charitable Trust, Fidelio Charitable Trust, Britten-Pears Foundation and Arts Council England. In 2019 they were awarded a touring grant to North America from HMUK's Do IT Differently Fund, where the Trio showcased music by British and American women composers.
In June 2022, the Marsyas Trio were announced as recipients of an Artist By-Fellowship at Churchill College at the University of Cambridge.
The Trio takes its name from Greek mythology – inspired by the bold, spirited passion of Marsyas, the celebrated pipe-playing satyr who dared to challenge and defeat Apollo in a musical contest.
PROGRAMME
Beethoven's Vienna:
Friedrich Kuhlau (1786-1832): Trio in G minor, Op. 119
Johann Wilhelm Wilms (1772-1847): Trio for flute, cello & piano
Fanny Mendelssohn-Hensel (1805-1847): Overture in C, arr. for flute, cello & piano
Carl Maria von Weber (1786-1826): Trio in G minor, Op. 63