Thursday 19 January 2023
7.30pm Crichton Church, Bankend Road, Dumfries
Benjamin Marquise Gilmore and Bartosz Woroch, violins; Sascha Bota, viola; Brian O'Kane, cello.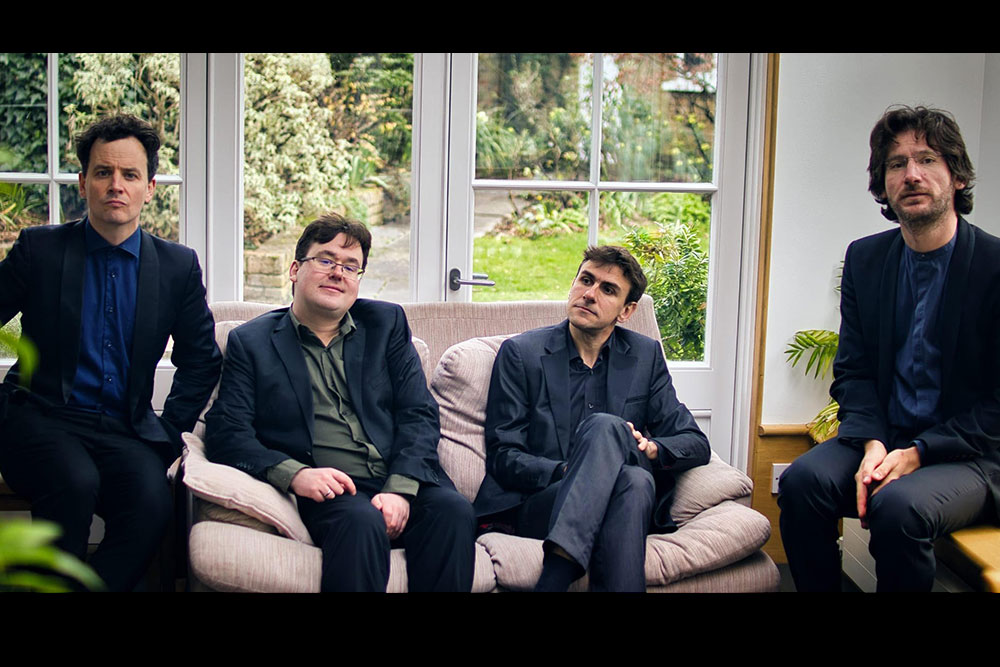 Navarra String Quartet
Commended for poetic lyricism and haunting intensity, the British based Navarra String Quartet distinguishes itself as one of the leading ensembles of its generation. Taking its name from a bottle of red from the wine region famously known for its multi-coloured landscapes, the Quartet's diverse cultural backgrounds are united in serving the music with relentless passion and commitment.
Highlights in 2021/2022 include chamber music at the Lammermuir Festival, and performances in Ireland, Holland, Tenerife and across the UK. They direct the eighth edition of their chamber music festival in Weesp, and record works by Samuel Barber, Edward Gregson and Alissa Firsova. In 2022, the Navarra Quartet also celebrate their 20th anniversary, with the release of the complete Mozart quartets dedicated to Haydn, new commissions, and tours to Europe, the USA, and Australia.
Previous appearances at major venues throughout the world include the Amsterdam Concertgebouw, Luxembourg Philharmonie, Berlin Konzerthaus, Queen Elizabeth Hall, King's Place, Sydney Opera House and international festivals such as Lockenhaus, Verbier, Aix-en-Provence, Grachten, Schwetzinger, Heidelberg, Mecklenburg-Vorpommern, and the BBC Proms. It has also toured extensively to Russia, the USA, China, South Korea and the Middle East.
NSQ enjoys sharing the stage with a variety of partners such as Tom Poster, Mark Simpson, Francesco Piemontesi, Guy Johnston, Allan Clayton among others, and their friends the Castalian and Elias Quartets. Beyond the versatile repertoire from di Lasso to Kurtág, the quartet finds collaborating with contemporary composers highly nourishing. New commissions by Simon Rowland-Jones, Joseph Phibbs and Mauricio Hidalgo are dedicated to the Navarra Quartet and featured in eclectically crafted programmes along Beethoven and his contemporaries.
PROGRAMME
Dvorak – Cypresses

Szymanowski- Quartet Op.37

Brahms – Quartet Op.67