Salomé String Quartet
sponsored by the Tunnell Trust
Thursday 15 February 2024 – 7.30pm
Moat Brae, 101 George Street, Dumfries, DG1 1EA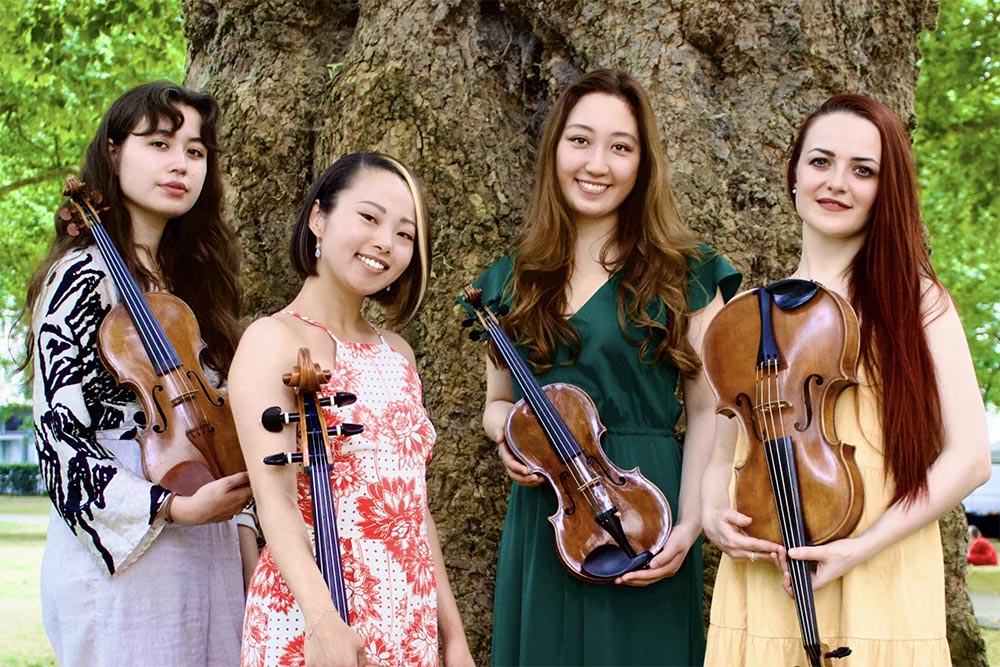 The Salomé String Quartet
sponsored by the Tunnell Trust
Described as 'strikingly intelligent and expressive' by The Strad, the Salomé Quartet are recognised for their heartfelt interpretations and electric sense of communication, quickly establishing themselves as one of UK's most exciting young string quartets. Formed in 2016 at the Royal College of Music in London, the group's international lineup comprises four prizewinning musicians; Haim Choi, Coco Inman (violins), Kasia Zimińska (viola) and Shizuku Tatsuno (cello).
The group have performed around the UK and abroad, including Milton Court, Barbican Centre, Wigmore Hall, Sacconi Chamber Music Festival and Tel Aviv Opera House, among others. The quartet was invited to Keshet Eilon International Mastercourse in Israel and Trondheim Academy in Norway, Musethica Germany and Spain and selected as finalists in the St Martin-in-the-Fields Chamber Music Competition.
Their recent engagements include appearances at the Wigmore Hall, Conway Hall, Cadogan Hall, Wye Valley Music, Bayle Music, performing in a Bristol Old Vic theatre production 'Dr Semmelweis' revolving around Schubert's 'Death and the Maiden', a recording project of John Woolrich's new works and a residency at the Stauffer Centre for Strings, Cremona. They have been selected as Britten Pears Young Artist and have won the Tunnell Trust Award.
PROGRAMME
Joseph Haydn – 'Sunrise' String Quartet Op.76

Hildegard von Bingen – Three Antiphons

Benjamin Britten – String Quartet No 2